YWP end of migration summary 
The aphid monitoring for 2023 has now ended. Winged aphids caught in yellow water pans and green wingless aphids counted in the crop both peaked in the middle of June and declined into July.  Winged aphids were caught in yellow water pans at 13 BBRO monitoring sites. 75% of aphids were caught in Newark area, 13% in Wissington area, 7% in Bury area, and 4% in Cantley area. Green wingless aphids counted in the field were also highest in Newark area with 54% of total aphids counted, followed by Bury area with 24%, Wissington area with 12%, and Cantley area with 10%.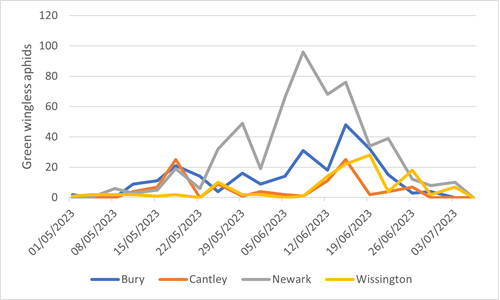 Figure 1 Graph of green wingless aphids counted on 20 plants in 46 fields across the four factory areas from 01/05/23 to 06/07/23(Bury = 13 sites, Cantley = 9 sites, Newark = 13 sites, Wissington = 11 sites) 
Only 18 out of 46 sites reached threshold and applied an insecticide. Five of these 18 applied two aphicides and one site applied three.  Virus testing of winged aphids caught in the yellow water pans has so far shown that ~0.4% of aphids were carrying beet poleroviruses (Beet Mild Yellowing Virus or Beet Chlorosis Virus). This is consistent with results from previous years. 
Please refer to the maps for data. The presence of green wingless aphids found on the crop will trigger a change on the map as follows:
Grey map point =  no data received
Green map point = data received, no aphids found
Amber map point = data received with aphids found but below spray threshold
Red map point = data received with green wingless aphids found and spray threshold reached.
The information below provides the most recent data in location to the postcode provided.
---